BAH – is the advanced orders and sale registration system for the small and medium trade companies. It is designed for pocket pc. With the administrative module (used for data synchronization) which is installed on PC computer in your office, the system makes possible placing orders, registering payments and sending it via internet, infrared or cable connection. It can work with other systems you already use in your company if they are able to export and import data.
Make more competitive ….
It is clearly understandable that higher speed of data processing (orders, bills) makes your company more competitive because the information flow faster. This solution eliminates much of the work your employees used to do before and makes your company more competitive in today's business world and also helps you to raise sales and work more effective. (Just a few minutes after placing order you can start work on it.). This solution is real revolution in distribution process.
New image of your company….
At the same time our clear interface attracts to work with mobile device (pocket pc). In hands of your agents it will be considered as "intelligent toy" rather then simple work tool. In the eyes of your customers your company will be considered professional with the highest level of service.


Software feature
Pocket PC application
Simple and clear interface without information overload
Full information about you customers and products (thousands of position)
Placing orders
Advanced discounting
Payments registration
Printing bills, orders
Data exchange with administrative module via internet, IrDA, serial port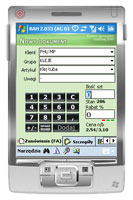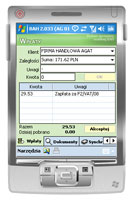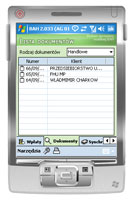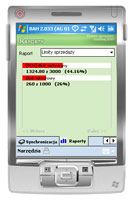 Administrative module (PC)
Possibility of export and import data
Salespeople management
Receiving orders from your saleman and sending information about changes occurred (prices, quantity)
Advanced reporting
Advantages of our solution:
Any additional fees after software purchasing (no subscription)
No need to buy any other software
We can adjust it to your individual needs
Low cost of using (connection to internet via GPRS)
Solution costs:
A solution cost includes:
Computer Pocket PC (for each salesperson)
Software
Computer PC
Graphic explanation how system works

System requirements
PC with a Pentium II-class processor, 450 MHz or higher, 128 MB RAM, Windows 98/2000/XP
Pocket PC for each salesperson
Mobile phone with internet access